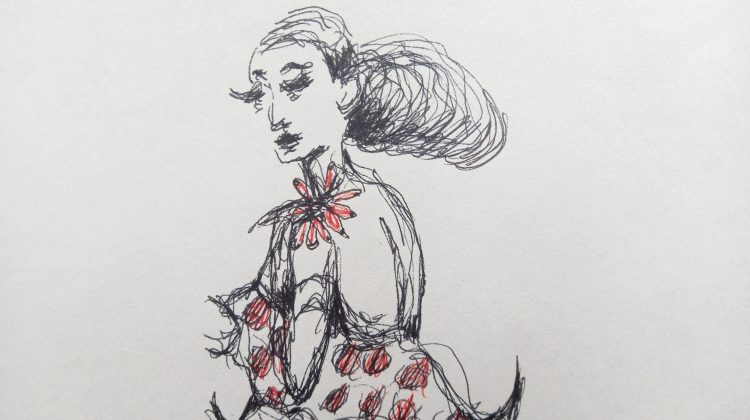 Doodling again – the restless pen!
I'm working on a project (under wraps at the moment) but when I stop working the pen refuses to lie still hence the attached drawing done in front of some sort of detective. I have never found out how to watch TV without doodling and I do love drawing the human figure and the human figure with clothes moving is cap nip to the pen. Dancers with drapery …heaven! I have to watch out that I get so immersed in drawing what's on the screen I miss the plot of what I'm actually watching….cue catch up! Costume documentaries or dramas are rich pickings. Mind you wildlife programmes too are riveting for the pen though everything moves very fast and it becomes quite exciting trying to get it all on paper in double quick time!
The pen and I are slightly estranged at the moment. I was given an amazing ROKA rucksack in a glorious orange. I love it. But the pen leaked a wee bit and I found a spot on my beloved bag. Its just a spot but I've removed the pen (actually I have at least 20 pens but like The Borg in Star Trek they are all one at heart).